Full Service Botox Treatment
Botox Melbourne FL – Viera Botox and Fillers
Botox cosmetic injections temporarily relax the muscles which cause wrinkles in the face and neck to dramatically improve your appearance. Treatments take about 15 minutes, are relatively painless and you can return to work or play immediately after. The results last up to 4 months with 3 months being the average.
Kim Zipper MD,  Sheila McCauley APRN and Bonney McGone APRN are diamond level injectors performing over 2000 injections yearly. They are experts at a non-surgical brow lift using Botox to lift the brow and open the eyes giving a relaxed more youthful appearance. Botox is also used in the lower face to improve lip lines and the downward frown of the mouth as well as in the neck to treat bands.  There is an ever growing list of uses for Botox:
Frown lines (the 11's)
Wrinkles and around the eyes (crow's feet)
Forehead lines
Lip lines (smoker's lines)
Wrinkles on the bridge of the nose (bunny lines)
Chin wrinkles (orange peel effect)
Brow lift (non-surgical)
Neck bands (Platysmal bands)
Under arm sweating
Patients achieve a natural more relaxed appearance in just one week after Botox injections without looking frozen or surprised.
Botox® can help diminish the wrinkles and lines associated with aging, and is a fantastic way to fight the effects of time. It reduces the appearance of crow's feet around the eyes, smooths any creases on the forehead, and eliminates frown lines around the mouth. Botox® creates a temporary relaxation of the muscles that underlie the skin of the face, causing the skin to smooth out and appear more youthful. Botox works quickly and yields dramatic results, which generally last between 3-6 months.
Botox® is made from an organism called Clostridium botulinum, from which botulinum toxin is derived. Botulinum toxin is diluted with a saline solution to create Botox®. It was approved by the FDA in the late 1980s to treat certain health issues including migraines, jaw tension, excessive sweating, muscle spasms and chronic pain. Later it became apparent that Botox® could also treat lines and wrinkles, and it was approved for cosmetic uses in 2002.
During the Botox® procedure, Botox® is injected into the neuromuscular tissue with a thin needle. It is fairly simple and straightforward, and no anesthesia is required since the injections only cause mild discomfort. The process only takes about 10 minutes, and generally requires a few small injections. Botox® takes about one to three days to take effect, and when it sets in it causes the muscle cells to relax, reducing the appearance of wrinkles. This is one of the most popular and effective anti-aging procedures because the results are tremendous, it requires no recovery time, and the process is fast and simple.
At Fountain of You our trained, professional team can help you achieve a more youthful appearance with Botox®. If you are in Melbourne, Viera, or anywhere in Brevard County, FL and are seeking anti-aging services, contact us today to schedule a consultation. We will discuss your aesthetic goals and come up with a custom treatment plan to help you achieve smooth, youthful, radiant skin.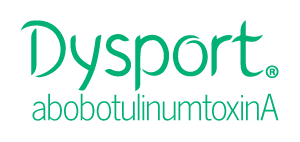 Dysport USA is a prescription injection for temporary improvement in the look of moderate to severe lines.
Dysport is a competitor to Botox and is performed in the same manner with similar results and longevity. Patients report a faster onset of action than Botox and may choose Dysport if an event or occasion is upcoming in a few days.